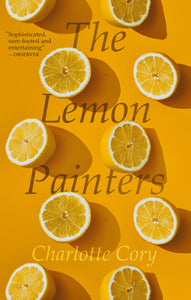 The Lemon Painters
new fiction
Regular price $11.00 Sale
The English in Paris take on Édouard Manet at his own game; a family holiday sets in motion events that will last many years; an abandoned author finally seeks revenge...
In this collection of sly, witty, unsettling stories, the novelist and artist Charlotte Cory shows her skill at creating lives in a few vivid strokes, as well as her unrivalled eye for the manias and delusions that bubble away under even the most apparently comfortable of façades.


author: Charlotte Cory
design:  Vince Haig
isbn: 978-1-9162321-2-9
pages: 221
PRAISE FOR CHARLOTTE CORY:

"One of the pleasures of reading Charlotte Cory…. is the sense of exuberant invention... A natural storyteller" - The Guardian
"In quite another league of invention" - Financial Times

 "Exuberant, witty, bizarre... Sophisticated, sure-footed and entertaining" - The Observer
"Strange, almost exuberant nihilism... Every story has imagination, wit and compassion" - The Sunday Times
Charlotte Cory is an acclaimed visual artist, and the author of 3 previous novels, The Unforgiving (1991), The Laughter of Fools (1993) and The Guest (1996), all published by Faber and Faber. Calque Press published her literary puzzle, Little Miriam's Nose. Her animal reworkings of Victoriana, the Visitoriana series, are held in numerous collections, including the Royal Collection at Windsor, and have been exhibited in galleries all around the world. Her work as a print artist includes several iconic covers for poetry collections by Sylvia Plath, Seamus Heany and Paul Muldoon. She lives in France and the UK.
BROWSE SIMILAR TITLES IN OUR CATALOGUE:
Artists - More Books by Artists from Calque
Weird - More Weird/Uncanny from Calque