Calque: a loan-translation, especially one resulting from bilingual interference.
Calque is a small and occasional press of pamphlets, short-lentgh books and anthologies. Multilingual authors, bilingual editions, and works on translation, alongside our favourite authors working in English.
The uncanny and the liminal share our catalogue with the hybrid and the surrealist. Visual artists exploring the intersections between art/craft and the written word, authors who write in more than one language, or who are underrepresented in mainstream publishing. Welcome. Bienvenue. Bienvenidos.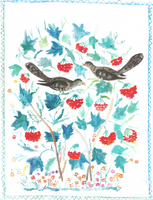 Now Available: A Sieve Filled with Berries
Liza Neklessa's pamphlet-length poem, A Sieve Filled with Berries, is about desire and nature, the first flush of a love affair, the way the world seems brighter when you might start to see it through someone else's eyes. Liza is interested in feminist discourse, and she works in the space between visual art and poetry with topics of objectification, gender-based violence, and gender stereotypes. Translated by Philippa Mullins, this edition includes Neklessa's own images which comment on and enlarge the scope of the poem.
Image: Liza Neklessa