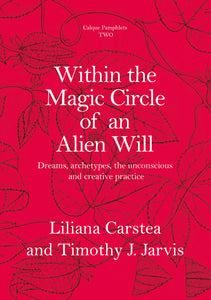 Pamphlet Two - Within the Magic Circle of an Alien Will. Dreams, archetypes, the unconscious, and creative practice
calque ideas
Buying from the EU? Please read about shipping from the UK.
Limited edition - 100 copies
Calque Ideas provides an opportunity for writers to think aloud, using their own experiences and knowledge to approach topics in an accessible and attractive way.
In this essay, Liliana Carstea and Timothy J. Jarvis make the case for a literature of constraint, finding that ritual and the external organisation of any writing environment open new spaces for the discoveries writers may not yet know they are going to make. Blending personal history and a range of reference that runs from Jungian archetype to Raymond Roussel and the Oulipo, the two authors gesture to the ways in which a text can serve as a map of the unconscious that is created by our passage through it.
authors:

 Liliana Carstea and Timothy J. Jarvis

pages:
Liliana Carstea is a Romanian writer fascinated with the macabre, the ancient, and the magical. Her work has appeared in The Pinworm Factory: A Tribute to Eraserhead (Plutonian Press), Pluto in Furs 2 (Plutonian Press), Cunning Folk, Black Flowers, Civilian Global and Write or Die Tribe. Some of her flash fiction stories made it to the second round in the SmokeLong Flash Fellowship for Emerging Writers in 2019.
Timothy J. Jarvis is a writer with an interest in the antic, the weird, and the strange. Treatises on Dust, a collection of linked weird tales was published by Swan River Press in summer 2023. His cult 'last man' novel, The Wanderer, was first released in summer 2014 (Perfect Edge Books) and republished in 2022 (Zagava). In 2020, he edited the anthology of strange stories, Uncertainties IV (Swan River Press). His short fiction has appeared in various venues. He also writes criticism and reviews, and is co-editor of Faunus, the journal of the Friends of Arthur Machen.
BROWSE SIMILAR TITLES IN OUR CATALOGUE:
Essay - More Non-Fiction from Calque
Weird - More Weird/Uncanny from Calque