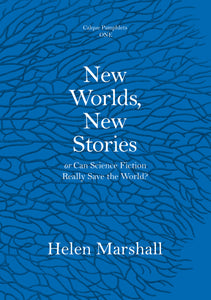 Pamphlet One - New Worlds, New Stories, or Can Science Fiction Really Save the World
calque ideas
Buying from the EU? Please read about shipping from the UK.
Limited edition - 100 copies
Calque Ideas provides an opportunity for writers to think aloud, using their own experiences and knowledge to approach topics in an accessible and attractive way.

author:

 Helen Marshall

pages: 16
Helen Marshall's essay investigates the potential to a writer of immersive worldbuilding, and the ways in which science fictional methods present a series of sometimes unposed and often unanswered questions about our own assumptions. If we, as readers and writers, are to turn literary worldbuilding into something more than a set of black v. white decisions, a picture of an environment in which continuity is all, and develop it into a useful tool for finding out what we don't know, we will need to learn to embrace radical uncertainty.
BROWSE SIMILAR TITLES IN OUR CATALOGUE:
Essay - More Non-Fiction from Calque
Science Fiction - More Science Fiction from Calque