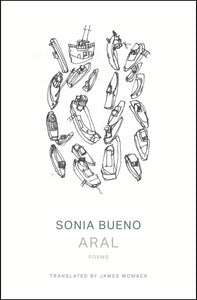 Aral
poetry/bilingual edition
Regular price $17.00 Sale
Buying from the EU? Please read about shipping from the UK.
Limited edition - 100 copies
'Fish skeletons in the sand...'
Inspired by a trip to the site of one of the worst man-made climate disasters, Sonia Bueno's first collection of poetry to be published in English is a fragmentary meditation on the fragility of a life that is beyond our control.
author: Sonia Bueno
translation:

 

James Womack
illustrations: 

Eugenia Criado
design:

 

Zuri Negrín
isbn: 978-1-9162321-1-2
pages: 104
PRAISE FOR ARAL:
'This book uses language in a radical fashion. But the word "radical" has two meanings: "extreme" or "experimental", and also "related to the root of things". This book offers us the word rooted in the depths of our subconscious, before it touches the conscious and begins to tarnish.' Carlos Izquierdo
'Her language is full of fishbones.' Aldo Alcota 
Sonia Bueno was born in the Spanish North African enclave of Melilla in 1976. She works with the literary collective Lavarca ebria, whose remit is to investigate the possibility of the word and its relation with other arts. She has published two collections of poetry: retales (leftovers, which won the Premio Internacional de Poesía Fundación Centro de Poesía José Hierro in 2011) and Aral (2016). She has published poems in literary magazines in Spain and abroad, including the English-language magazine The Wolf. She was an invited reader at the 49th Rotterdam Poetry International in 2018. She lives in Souther Spain.
BROWSE SIMILAR TITLES IN OUR CATALOGUE:
Bilingual - More Bilingual Editions from Calque
Illustrated - More Illustrated Editions from Calque
Nature - More Books about the Planet from Calque
Poetry - More Poetry from Calque
Translation - More Translation from Calque