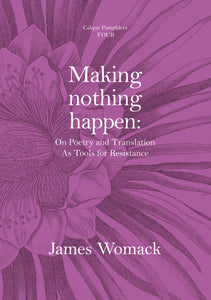 Pamphlet Four - Making Nothing Happen: On Poetry and Translation As Tools for Resistance
calque ideas
Buying from the EU? Please read about shipping from the UK.
***COMING SOON***
Limited edition - 100 copies
Calque Ideas provides an opportunity for writers to think aloud, using their own experiences and knowledge to approach topics in an accessible and attractive way.
author: James Womack
pages:
James Womack
is a Cambridge-based poet and novelist. He studied Russian, English and translation at University, and received his doctorate, on W.H. Auden's translations, in 2006. He lived in Madrid from 2008 to 2017, and now teaches Spanish and translation at Cambridge University. He is a freelance translator from Russian and Spanish concentrating mostly on poetry. He has published three collections of poems, all with Carcanet:
 

Misprint
 (2012), 
On Trust: A Book of Lies
 (2017, Shortlisted for the 2019 Ledbury Forte Prize for Second Collections; Longlisted for the 2018 International Dylan Thomas Prize), and 
Homunculus
 (2020), a book-length meditation of the Elegies of the sixth century Roman poet Maximianus. 
His most recent translations are 
Heaven
, by Manuel Vilas, a selection of poetry by Vladimir Maiakovski, both published by Carcanet, and new translation of 
The Hive
 by Nobel Prize Camilo Jose Cela, published by the New York Review of Books classics collection in 2023.
BROWSE SIMILAR TITLES IN OUR CATALOGUE:
Essay
- More
Non-Fiction
from Calque 
Poetry
- More
Poetry Titles
from Calque
Translation
- More
Translation
from Calque