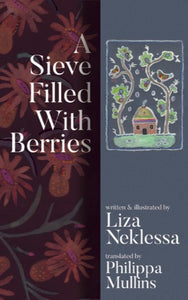 A Sieve Filled With Berries
poetry/bilingual edition
Liza Neklessa
Illustrated by the author; translated by Philippa Mullins
Liza Neklessa writes poems at once sensuous and robust: she describes a world where the overgrown debris of the Soviet era is the background for tenderness and infatuation. A Sieve Filled With Berries is a vindication of the distinct freedoms of the artist and the lover, and shows once again how the individual can never be fitted into any mass-produced or state-sponsored straitjacket.
Liza Neklessa (b.1989) is an artist and poet from Moscow, Russia. She has exhibited in many countries, and her work is held in private collections in Boston, Brussels, Geneva, Kyoto, and Moscow. She is the author of the books A Sieve Filled with Berries and A Phenomenology of Death: Some Notes, as well as of the poetry and art project 'Women's Voice'. Her poetry and prose have been published in journals and literary projects in Russia, the United Kingdom, and Germany. She has been included multiple times in 49ART's ranking of outstanding contemporary Russian artists.

Philippa Mullins translates from Russian to English. Her translations have been published in The Denver Quarterly, Poetry London, and the Russian Oppositional Arts Review (ROAR). She lives in Yerevan, Armenia.